It's been a long time – in more ways than one! The Invincible Army sectorial is finally available on INFINITY Army, with a host of new profiles and troopers, and a brand new starter on the way. Seems like the right time to get back in the saddle (I apologize to anyone who has been hanging out for updates in the last year).
So what am I excited for?
The number one item is Zuyong fireteams, so this post is going to focus on them, the core of the Invincible Army. Whilst I had always fantasized about having a reason to use a lot of them, I never expected that they would receive the benefits of as many new skills as they did. Most of these boons target the generation and use of orders. Tactical Awareness is a major game changer on its own (an extra order with no restrictions when used in a fireteam), but it also happens to be on two of the more useful profiles. The HMG is who you would be spending orders on anyway, given his BS16 B5 bullet hose. The Tactical awareness Tinbot haris profile might not be spending orders mowing jerks down like the HMG will, but she can use the order to move the link when you are secure enough to do a move-move order. Just watch out for that hidden deployment, especially in factions that have access to hidden missiles!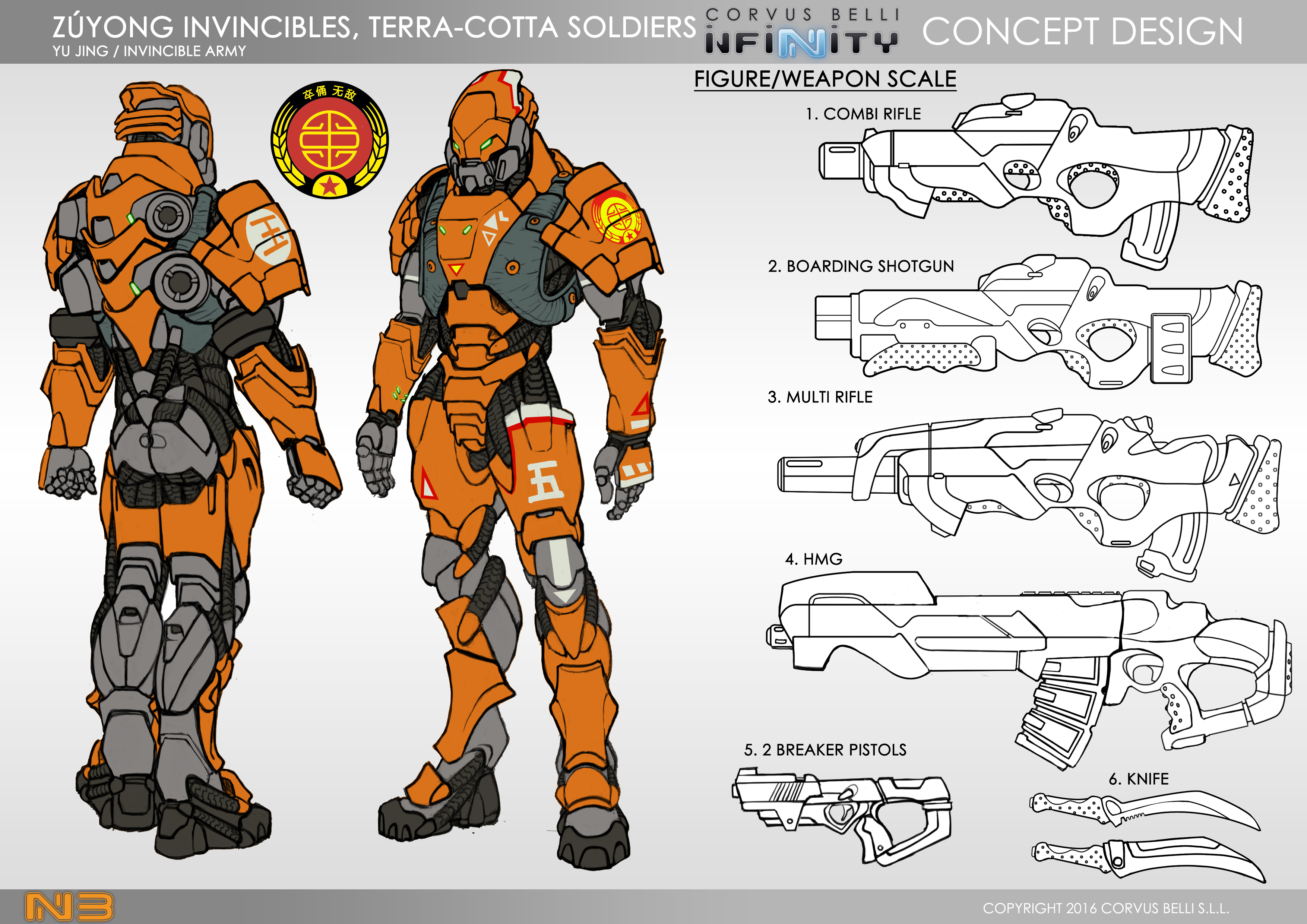 Invincible Army players are also able to sub out one member of the link several different cheap and/or useful wildcards. The new FTO profile for the Yaopu will be doing a lot of this, although there is also merit for using various Haidao in this way.
All this aside, the real shock and awe begins with Tai Sheng, the thus far unseen Zuyong hero. He is so incredibly good that I actually feel a bit guilty. Aside from being a total beast statwise, a specialist and packing a truck of a gun (I'd only ever use the Mk12 profile), the ability to spend the two Lieutenant orders generated by a Daoying on Tai Sheng, without breaking his fireteam is pure insanity.
Pop this code into INFINITY Army to see how it might look: EwBgLAPgzCIRwCkBGYYyLANlYghMgKwrBYZgDsyW+xqhImWhUtJDThGedwH2YJD3aMB3YK1QUklKEgACioA=
Just in this unfinished list there is the potential to spend 12 orders on the link, so long as 1 goes to the Haris/Tinbot, 1 goes to the HMG and 2 go to Tai Sheng. This could easily be 14 orders once the list is finished. The reasoning behind these particular profiles is that if going first, the missile launcher can nuke hard targets, relying on his second wound and high stats to see him through, and if going second, BS16, B2 Missile AROs with Sixth Sense is comfy enough defense to go second with. In both scenarios, he's likely to eat shit, which is why the Yaopu is there, making sure you still have the BS bonus when you reform the link and take revenge for him. The munchkin version of this list would probably trade the missile for a Haidao MSV2 Sniper, but I like Zuyong Invincibles and we are getting a missile launcher in the starter, so might as well put it to work. I'm really happy that by the time that the dust has settled, we will have 5 different Zuyong models, most of which will see a lot of play.
Zuyongs also gained the ability to have a pair of Yanhuo Invincibles form a Fireteam with the Haris profile (Check out my posts about the two Yanhuo Invincibles here). Anyone who is not completely irrational is going to swap one Yanhuo for a Yaopu FTO or Haidao KHD though.
Such a fireteam is sure to turn heads, but whether it will be able to stand up to the serious tournament lists of something like VIRD, TAK or OSS is suspect. Gosh it looks cool though.
I'm also excited about finally being able to form a fireteam with Yu Jing's most basic trooper, the Zhanshi. I think I will cover them in another post, as I intend to pick up the SWC box and I have two conversions that I'd like to show off. As this ended up being a post about Zuyong fireteams more than anything, be sure to check out one of my favorite posts on one of my favorite models if you haven't already.
One last thing, a quick shout out to my first Invincibles, who I would not be here without. These are my "waiting a long time for Invincible Army" cred.